Footballers spitting on field – A hidden trick
Footballers spitting on field – A hidden trick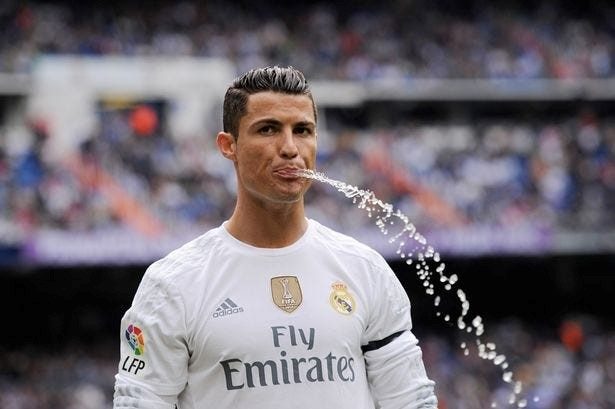 Being in the field of sports nutrition, I make keen observations on sports and players. I have always been a football fan and loved watching football matches, especially FIFA. While keeping a weather eye on players, I saw Cristiano Ronaldo sipping on a fluid and spitting it out in the field and he did this in almost all matches. In fact, a lot of footballers were doing it. This sewed a seed of curiosity in my mind and persuaded me to find out about it. Is it a casual practice or is its secret science behind their performance? I came to know the fluid that they were using was actually a glucose solution and this practice is known as Carb rinsing or Carb mouth rinsing. Let's dive in straight into it.
What is Carb mouth rinsing?
Mouth rinsing is a strategy that athletes use to boost their performance. It is a simple practice of rinsing the mouth with carb solution for 10 secs. The solution is not ingested but spit out, it can be in a plastic pouch or a small cup or tube as well. It can be effective in revealing mental fatigue so that you can perform to your full potential.
How does it work?
This technique works by tricking your mind. It acts on the nervous system via taste buds. It enhances the activity of chemicals in the brain that will keep you motivated, active, alert and reduce your perceived exhaustion. Moreover, it keeps you away from getting bloated and gastric distress so that you can perform comfortably. Altogether it supports your performance.
What can I use for carb mouth rinsing?
Sports drinks are the best options for mouth rinsing. Sports drinks containing sugars work better than those containing sweeteners. Artificial sweeteners are just for the taste factor and do not have an impact on nervous system's excitatory activity. Research has stated that sports drinks containing 6% carbohydrates (isotonic sports drinks) are most effective for carb rinsing.
In what situations can it be used?
It can be useful in intermittent sports before bouts of high intensity activity. It is effective for endurance and ultra endurance sports when they feel the need for some extra push. It can be practiced before the kickoff of a sport. It can be a practical strategy for sports with less duration of interval in between. An important point to keep in mind is that your daily and pre-event nutrition is crucial and unparalleled, carb mouth cannot replace that. It is always best to consult a nutritionist to curate a personalized diet plan according to your requirement, activity levels and sports that you are involved in. DNA nutrition plans can be an efficient and accurate way of unlocking your true potential.